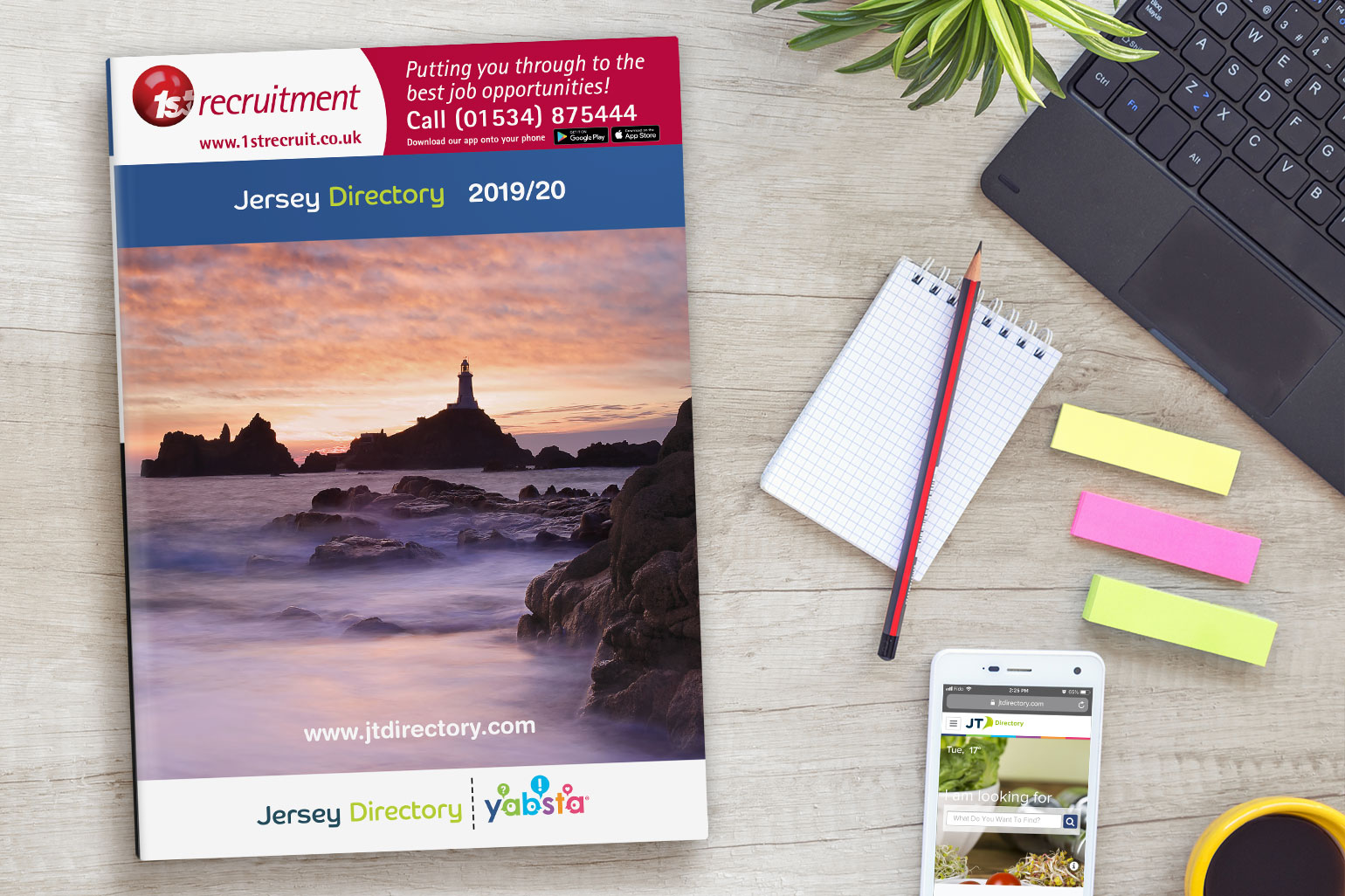 The brand new 2019/2020 Jersey Directory is the first to be produced by the newly formed partnership of JT and Yabsta Limited, continuing the legacy of a respected publication that is now well over 100 years old.
Featuring a larger font size and type specially selected to improve legibility, a vibrant new colour palette is used throughout for an enhanced reading experience. Larger, easy-to-read map sizes feature an improved grid reference system and detail Defibrillator/AED locations in Jersey.
Introducing the Mini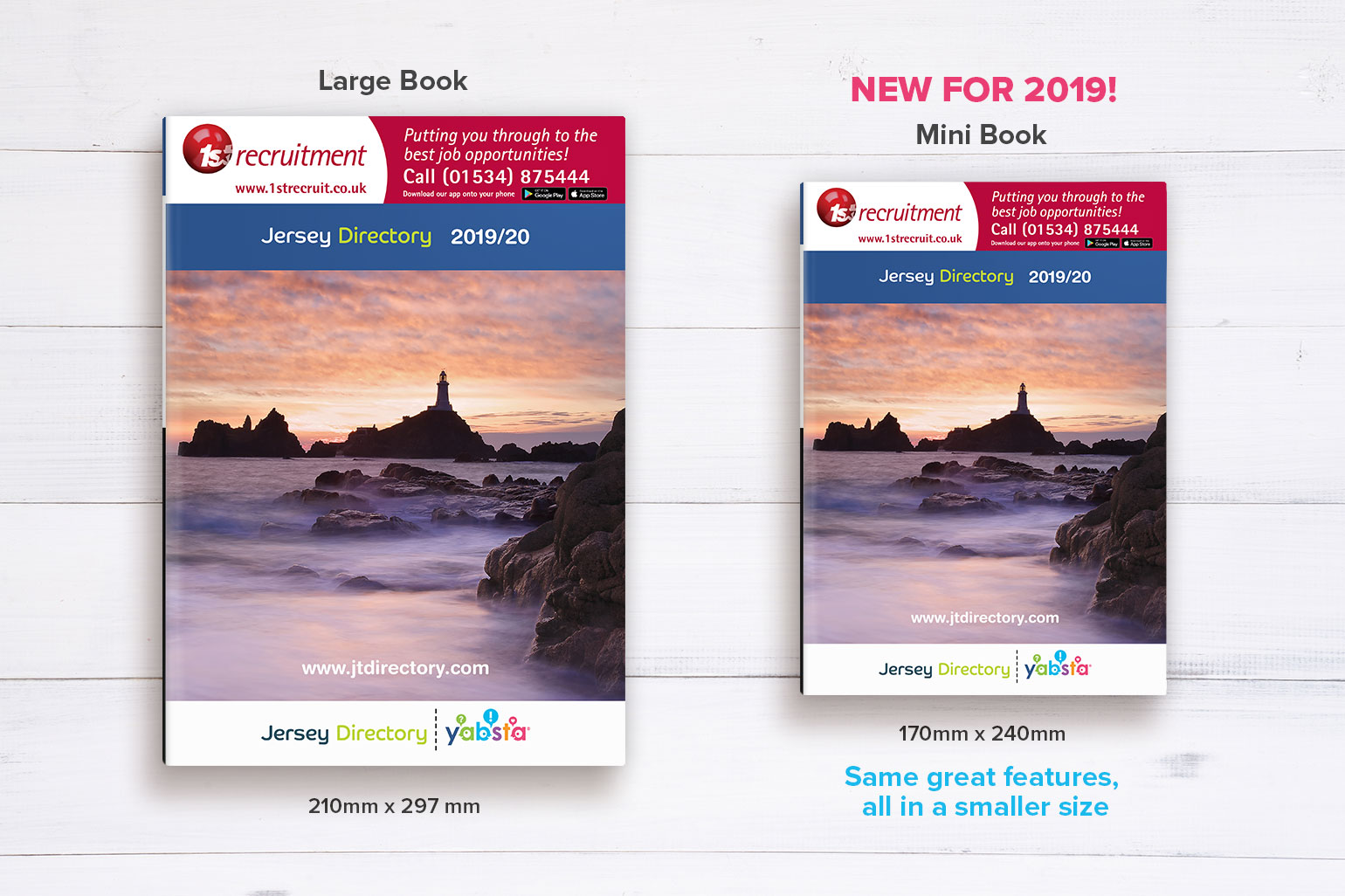 Short on storage? The directory now comes in two sizes - traditional A4 and mini. Ideal for small spaces, the mini Jersey Directory is perfect for taking on-the-go and great for guests of businesses such as hotels and restaurants. The traditional size will be delivered to rural parishes while the mini will delivered in urban parishes such as St Helier. The mini directory features smaller text and images with the same number of pages - 792.
Available in Large and New Mini size

Proudly Green
The Jersey Directory is proud to be green and is produced using 100% recycled paper. We're working alongside Mohn, our new recycling partner, to utilize industry leading facilities and adhere to the most eco-friendly production methods available, including non-toxic inks. Old books are being collected and returned to Germany for further recycling. Each of the 12 island parish halls have kindly agreed to act as drop-off points for old books as has the Co-op (Grande Marché, St Helier & St Peter) and Jersey Post (Rue des Pres & Broad Street).
New Features
The 2019/2020 edition features a broad range of new and exciting community content, including:
tide tables
a Community Section with advice on safety at home, at sea, online and in the car
crime prevention tips
a calendar of events
information on the National Trust
section dedicated to Jersey's seniors.
Don't worry - the book still contains all of the information you know and love, including detailed business listings, white pages and more.
The Importance of Print
The print book remains in production as it is a vital resource for those with limited access to computers and smartphones in our small island community. Highly accessible and easy to use, the directory provides households and customers throughout Jersey with the ability to quickly obtain information on island businesses and individuals – no Internet required. A beloved Jersey authority, its popularity among both end-users and advertisers thrives.
Community Support
We value Jersey's local community! We support the Island charities and organizations that need it most via our Sponsored Charities features throughout the publication, boosting their local exposure. Keeping with Jersey's Buy Local mantra, our front cover image was provided by Colin Cruickshank, a well-known local photographer.
Distribution
As 2019 progresses, the Jersey Directory will continue to work alongside the Jersey Post to improve the annual distribution process, aiming to ensure that everyone who would like a copy of the book receives one. To find out more or request deliver, please follow us on Facebook or Instagram, or contact us directly at 882508 or info@jtdirectory.com.
Register a User account with us today to leave a comment and explore our great features including free business listings and classifieds, business reviews, event posting, and more.