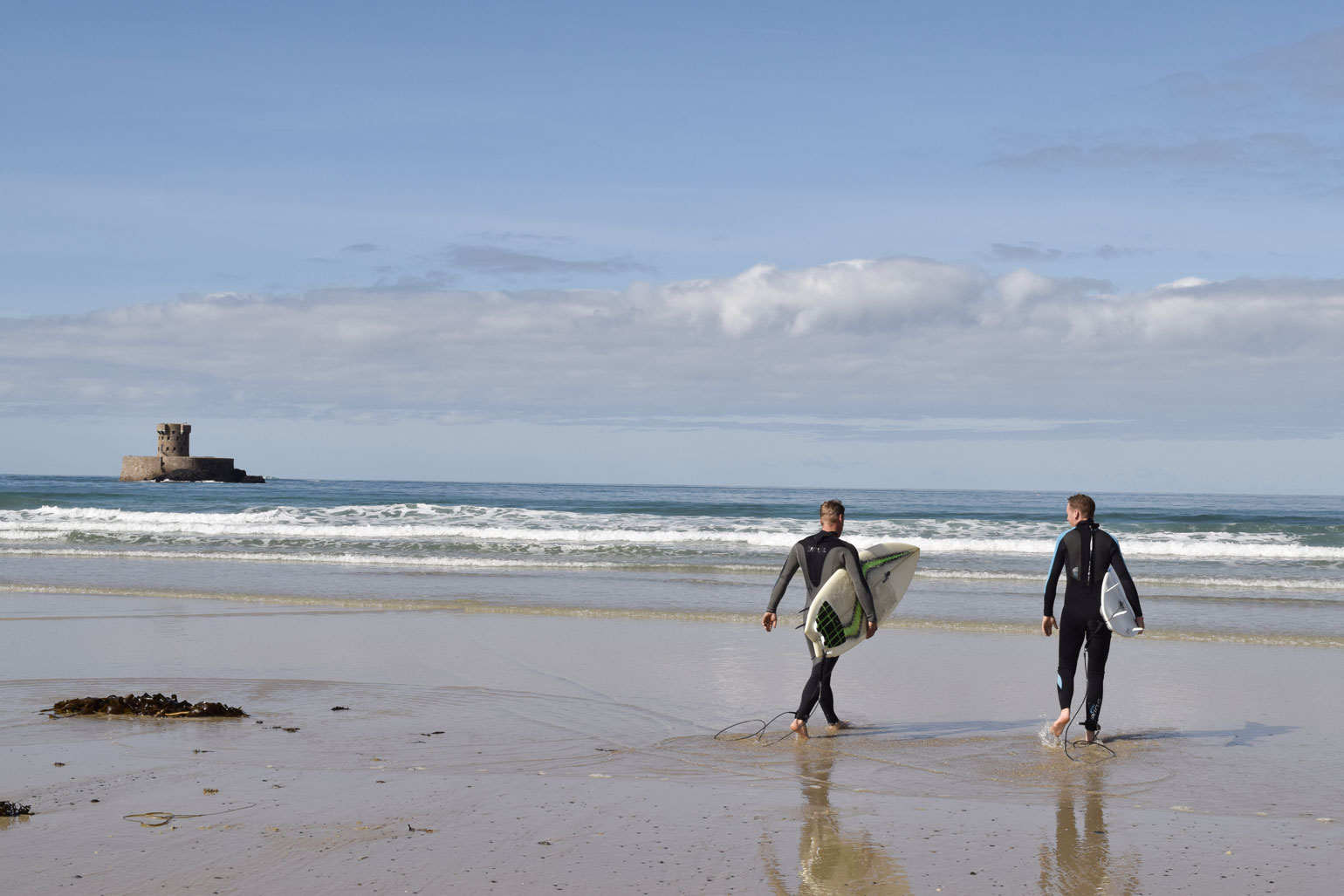 As islanders, being on, around or in the water is part of our way of life. It can be easy to forget that as well as being great fun, swimming, diving, boating and other recreational water sports present various dangers. Our Water Safety Guide will help you minimize the risks involved so that you can continue enjoy Jersey's beautiful waters.
Beach Safety
---
Only swim when there is a lifeguard present
On a lifeguarded beach, only swim between the red and yellow flags
Do not swim if there are only red flags
Read and obey the safety signs located at the beach entrance
Do not swim alone
Wave your hand in the air and yell if you are in trouble
Do not attempt to rescue someone who is struggling - if there is no lifeguard, call the Coastguard at 999 or 112
Flags and Signs
Signs and flags are important safety notices which give info on the hazards specific to the beach. The signs generally use two different types of warning symbols. If the beach you're at is not lifeguarded, please take extra care if you are going into the water. If lifeguards are on patrol, then you'll need to know your flags.
Sign/Flag
Meaning
Do not enter the water at any time. Swimming and other water-related activities are not permitted.

Red and yellow beach flag

Lifeguarded area. Safest area to swim, bodyboard and use inflatables.

Black and white chequered beach flag

For surfboards, stand-up paddleboards, kayaks and other non-powered craft. Launch and recovery area for kitesurfers and windsurfers. Never swim or bodyboard here.

Red beach flag

Danger! Never go in the water under any circumstances when the red flag is flying.

Orange windsock

Indicates offshore or strong wind conditions. Never use inflatables when the windsock is flying.
Tides and Weather
Heading out on the water? Always check the tide and weather forecast beforehand!
Consider the speed and direction of the wind as well as the temperature
Always inform someone on land of your plans, where you are going and when you will return
Rip Tides
Strong currents, rip tides often take swimmers far out into the sea
Signs of a rip current include foam on the surface of the water, debris floating outwards, rippled water and discoloured water
To get out of a rip current, remember the following:

Relax and float. Do not swim against the current.
Raise an arm and call for help.
Wait for rescue calmly. Do not panic or struggle.

If possible, swim parallel to the beach to get out of the rip tide
Beach Flags at Le Braye Beach, St. Ouen's Bay

Tombstoning/Jumping From Height Into Water
High risk, tombstoning is illegal in Jersey harbours
It is very dangerous due to altered water depth, shallow waters, submerged objects, cold water shock, strong currents and more
Bodyboarding
Only bodyboard on lifeguarded beaches
Utilize a leash and flippers at all times
If you are in distress, stay with your board, raise your arm and yell for assistance
Surfing
Only surf on lifeguarded beaches
Utilize a leash at all times
If you are in distress, stay with your board, raise your arm and yell for assistance
Do not surf alone
Do not surf between the red and yellow flags
Inflatables
Do not use inflatables in the sea
If you do use them in the sea, ensure that it is on a lifeguarded beach
Do not use inflatables in choppy or windy conditions
Secure children's inflatables to a line held by an adult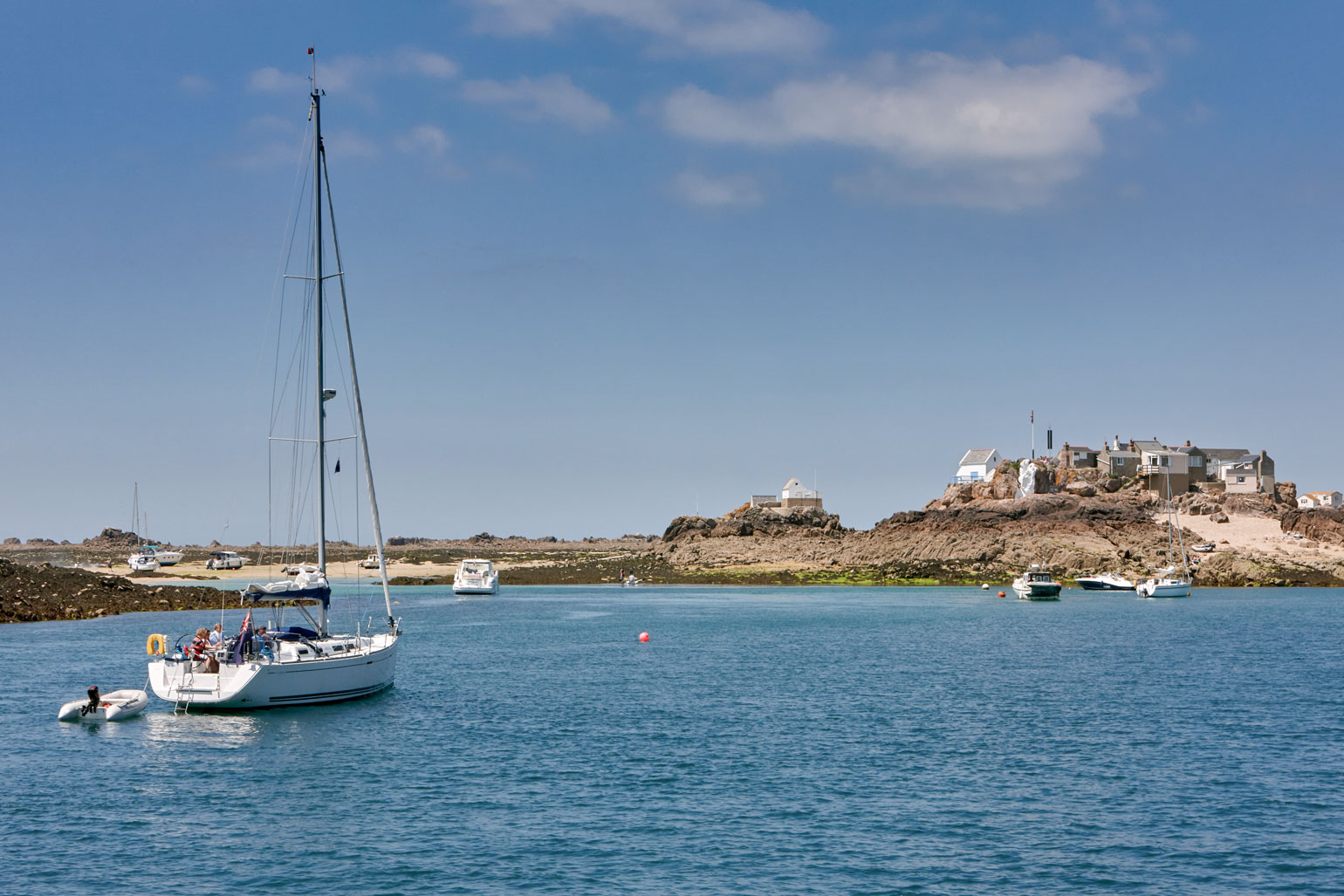 Boat Safety
---
SOLAS V
According to the SOLAS V convention, Jersey boat owners must passage plan, record navigational activities and carry communication equipment
Lifejackets
Always wear a lifejacket!
Even if you are a strong swimmer, Jersey's cold waters often cause 'cold water shock'
Test the automatic inflation mechanisms of your lifejackets
Marine Flares
Marine flares are used to attract attention and communicate vessel location
Marine flares are only used when there is grave and imminent danger to a person or vessel
Hand held red flares are visible up to approximately 3 miles and should only be used when in sight of a boat, aeroplane or land
Orange smoke flares have a range of approximately 1 to 3 miles and should only be used in daylight when in sight of a potential rescuer
Red parachute flares are rockets that rise to approximately 300 meters then drift down with a red light on a parachute. If there is clear weather, these flares can be seen up to 25 miles away
Always read the manufacturer instructions and ensure that each flare is in date
Recommended Number of Flares
Inshore (5 miles from land): 2 hand held red flares and 2 orange smoke flares
Coastal (7 miles from land): 2 hand held red flares, 2 orange smoke flares, 2 red parachute flares
Offshore (over 7 miles from land): 6 hand held red flares, 2 buoyant orange smoke flares, 4 red parachute flares
VHF Radio
Carry a VHF radio, which does not require mobile signal to function and transmits a signal that allows location to be tracked
Engine and Fuel
Ensure that your engine is regularly serviced by a qualified marine engineer
Always check your fuel
Carry an alternate method of propulsion whenever possible