Jersey's bus services are operated by CT Plus - trading as LibertyBus - on behalf of the States of Jersey. The service connects most of the island and stops near the majority of the principal visitor attractions. All buses leave town from Liberation Station, St Helier and all vehicles have easy access for wheelchair users. Services are increased during peak season, between Easter and late September.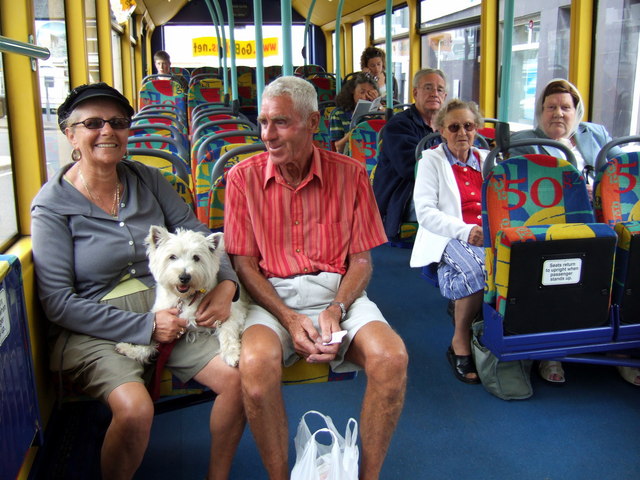 Boarding a bus – The main bus station is Liberation Station in St Helier but you can board a bus at any of the stops around the Island. As well as traditional bus stops marked with poles, there are also numerous stops around the Island identified by 'BUS' painted in white on the road. At these stops passengers should wave down the correct bus when it approaches.
Payment - There is a single fare of £2.00 for adults and £1.00 for students/children. Jersey resident senior citizens travel free. However, the easiest and most cost effective way to use the bus to get around Jersey is to purchase an AvanchiCard. Used to pay, AvanchiCards can be managed online and users can add 'pay-as-you-go' credit. Also available for purchase are AvanchiCard Concession, Student, Unlimited and Visitor passes.
Getting to your stop - The buses tell passengers what the next stop will be on a screen and with an announcement. In order to stop the bus you should press the red button to tell the driver that you would like to get off. Or, if you can't reach a button, ask a fellow passenger to press it for you. If you are unfamiliar with the route, advise the driver where you would like to go and they should advise you of your stop so there's no need to worry about getting lost.
Bus routes - All buses run to and from Liberation Station, St Helier. The company has a comprehensive website which includes an interactive journey planner and live service updates. Copies of the timetables are can be obtained from Liberation Station and Jersey Tourism. Timetables are also displayed at some bus stops and include the island's route map.
1 Liberation Station – Gorey Pier
1a Liberation Station – Gorey Pier
1g Liberation Station – Gorey Pier
2 Liberation Station – St Catherine
2a Liberation Station – St Catherine
3 Liberation Station – Durrell
4 Liberation Station – Bonne Nuit Bay E.
5 Liberation Station – St John's Church
7 Liberation Station – St John's Church
7a Haute Vallee School - Liberation Station
8 Liberation Station – Portinfer Junction
9 Liberation Station – Portinfer Junction
12 Liberation Station – Corbiere
13 Liberation Station – Durrell
15 Liberation Station – Jersey Airport
16 Liberation Station – Liberation Station
19 Liberation Station – Liberation Station
21 Liberation Station – Liberation Station
22 Liberation Station – L'Etacq
x22 Liberation Station – L'Etacq
23 Liberation Station – Durrell
28 Liberation Station – Jersey War Tunnels
Popular destinations by bus
Jersey has many great attractions around the island; here are a few of the top ones with their recommended route. (Of course with the island being so small it is possible to walk from the stop on an alternative route rather than make a change to a different bus so do check the route map just in case!)
Destination Bus Route
Jersey Maritime Museum and Occupation Tapestry In St Helier
Samarès Manor & Gardens 1a
Airport 15
Jersey Pearl 22
Jersey War Tunnels 8a
Durrell Wildlife Conservation Trust 3a, 3b, 23
aMaizin! Adventure Park 9
Mont Orgueil Castle 1, 2
Elizabeth Castle In St Helier
Jersey Lavender Farm 15, 22
Pallot Steam, Motor and General Museum 21
Channel Islands Military Museum 22
Jersey Museum and Art Gallery In St Helier
Grosnez Castle 8
Gorey Pier 1, 1a
(NB – as stated above all buses come to and from Liberation Station in St Helier, therefore all Town attractions are easily accessible via any bus route. Any attraction in St Helier is therefore noted as In Town!)